Download the first chapter for FREE!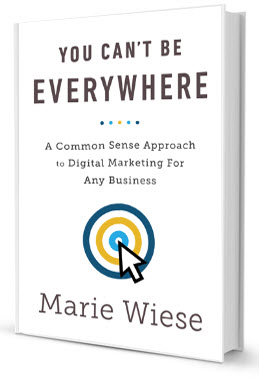 The key to a successful marketing strategy today is delivering the right content, at the right time, in the right place, for the right audience.
In You Can't Be Everywhere, Marie Wiese offers her well-tested insight on how to navigate the realm of digital marketing and become a savvier marketer. Through personal stories and no-nonsense advice, Wiese shows how any company can conquer the digital space and craft extraordinary strategies and customer connections.
You Can't Be Everywhere takes out all of the guesswork by:
Revealing the secrets behind creating an impactful, measurable, and captivating marketing program
Outlining a simple marketing approach based on common sense
Describes the need for digital transformation for every business
This book helps entrepreneurs, business owners and CEOs create a road map that shows them what they need to do in order to connect with the right audience and attract the right sales leads.